What is incognito browsing?
Incognito browsing, in its most basic form, won't record visited sites to the browsing history, save cookies that show you've been to and logged into sites, or remember credentials like passwords used during sessions (auto-login). Successfully signing into your account via an incognito browser is a great first troubleshooting step to narrow down any sign-in issues that you may have!
Open Incognito In Chrome
On Laptop

With Chrome open, just press Ctrl-Shift-N (Windows) or Shift +
+ N (Mac OS)
Alternatively, you can click on the three vertical dots at the upper right menu on Chrome and select the New incognito window option from the drop-down list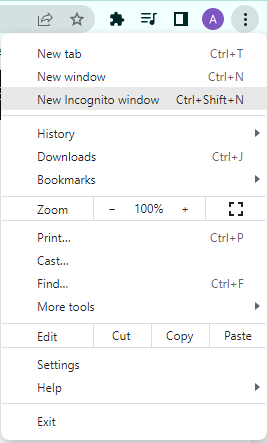 You can recognize the incognito window by its dark background and a stylized spy icon near three vertical dots. Each time you open a new incognito window, Chrome will remind you of what it can do or can't do.
On Android or iPad
Open the Chrome app and click on the three vertical dots, select the New Incognito tab to be on a new window.
Open Incognito In Microsoft Edge
Go to the Edge menu, three horizontal data at the browser's right hand, and click on it. Select New InPrivate window. Or, you can just click Shift + CTRL + P (Windows) or Shift +
+ N (Mac)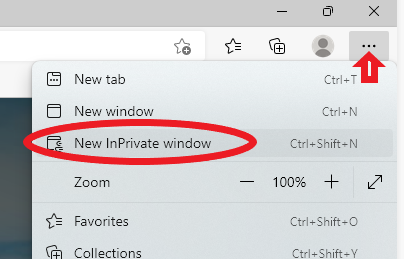 Open Incognito In Mozilla Firefox
Click on the three vertical lines on the upper-right-hand corner to open the Firefox menu. From the dropdown menu, select New Private Window. You can also use the keyboard shortcut Shift +
+ P for macOS and Shift + CTRL + P for Windows and Linux.
Open Incognito In Apple Safari
On Mac
To open the Incognito tab in Safari, click on the File menu and select the New Private Window option or you can press Shift +
+ N on the keyboard.
On iPhone/iOS
Tap the two-square icon in the bottom right corner (top right corner if using landscape view)
Tap the "1 Tab" button (or "X Tabs")
Choose Private
Tap the + icon in bottom corner
You can tell you're using Private Browsing as the address/search turns dark
Follow the same steps and tap Private again to stop using the feature