Cast your device (unless only a camera feed is needed).
Note: See this article How do I screencast to Cynaps? (This link will open in a new tab) for detailed instructions.
1. Tap the Cynap screen and select [+] button with the room's wireless keyboard's trackpad.


2. Choose Zoom.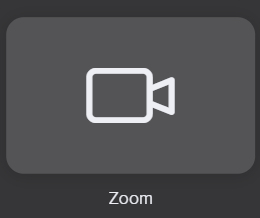 3. Enter the meeting ID for your Zoom meeting with the room's wireless keyboard.
4. Type in a name for your group and click Join. The "Your Name" field must be clicked on before typing is allowed.
5. Enter the meeting passcode when prompted if applicable.
6. Share the casted screen(s) by choosing the Share Screen icon at the bottom of the Zoom video window.

7. Select which open window(s) you wish to share.
Note: This would be your laptop connected via a screencast, built-in browser or whiteboard, or document camera.
8. Record Your Meeting (if desired). Select the record button on the Zoom video window to record your Zoom presentation.